Acai - Strong Antioxidant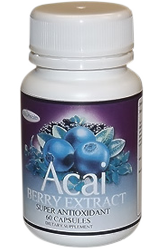 The Acai berry is high in antioxidants and is known as a mega food. Did you know that Acai berry contains more antioxidants than any other plant in the world. Acai contains a significance amount of minerals such as potassium and magnesium.

Acai has great nutritional benefits, great if you are looking to keep in shape and feel healthier. Some benefits include: supporting the natural aging process, natural weight management and supporting natural energy levels. The Acai Berry capsules are a whole food supplement. The only ingredients is Acai berry.
FAST DELIVERY, All items are dispatched on the same day you place your order.
What is in your capsules?
Our capsules contain 500mg of pure concentrated Acai berry extract. Each bottle contains 60 pills. Take two capsules daily.

Is there any side effects?
Acai berry has no known side effects. However if you do suffer any side effects, stop taking and consult your doctor.

How Long Does Delivery take?
Orders are shipped daily Monday to Friday. If you order before 3:00pm you will receive it the following business day. Is it Guaranteed?
Yes.We offer a 100% Satisfaction, 60 day, money back guarantee. See the FAQ for more information.

Live reviews from real customers.
Results may vary from person to person.