HEMP HEALING BALM - Tropical Ointment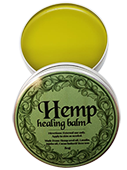 Give your skin the loving it deserves and the moisture it needs especially in these cold winters and overbearing summers. Made from 100% Natural ingredients that are great for the skin. Hemp Balm is great for small skin irritations, scars, mild burns, eczema, chafing and dry skin.


How do I use it?
Apply to effected area 3x daily until healed. Suitable for skin concerns such as rash, bites, burns, & eczema.

What are the ingredients?
Hemp seed oil
Hemp seeds are rich in healthy fats and essential fatty acids. They are also a great protein source and contain high amounts of vitamin E, phosphorus, potassium, sodium, magnesium, sulfur, calcium, iron and zinc.
Jojoba oil
Jojoba oil has some great anti-inflammatory properties which help to tame chafing. Does a good job at reducing redness caused by drying, eases the effects of eczema and rosacea, and keep skin calm and comfortable. The Vitamin E and B-complex vitamins in the Jojoba oil help in skin repair and damage control.
Beeswax
Beeswax offers anti-inflammatory and often treats skin irritations. It also helps to provide a protection while still allowing the skin to breathe
Cacao Butter
Cacao butter is also rich in natural plant compounds. These substances may improve blood flow to the skin and slow skin aging by protecting against damage from the sun's harmful UV rays. One common use of cocoa butter is to smooth scars, wrinkles, and other marks on the skin.
Lanolin oil
Lanolin is used to treat and prevent dry, rough, scaly, itchy skin and minor skin irritations

How Long Does Delivery take?
Orders are shipped daily Monday to Friday with over night courier. You will receive a tracking number in your email once your order has been shipped.

Is it Guaranteed?
Yes. We only manufacture and sell the most quality and effective products and offer a 100% Satisfaction, 60 day, money back guarantee. See FAQ page for full details.


Live reviews from real customers.
Results may vary from person to person.