High Absorption Magnesium – Faster Recovery and Healthier Muscles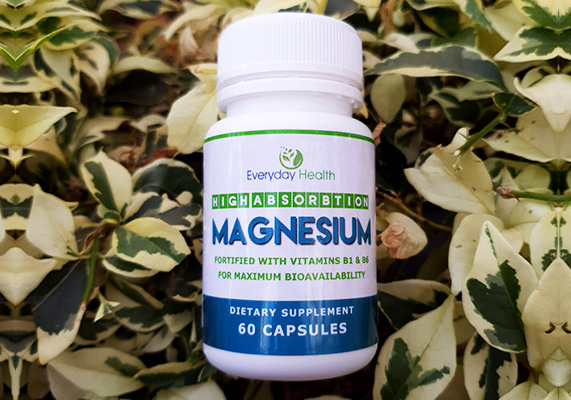 Magnesium is a mineral required. Low magnesium levels in the body have been linked to diseases such as osteoporosis, high blood pressure, clogged arteries, hereditary heart disease, diabetes, and stroke. Its estimated 70% of New Zealanders are not consuming enough Magnesium.

Our High Absorption Magnesium contains pure Magnesium glycinate, also known as magnesium diglycinate, then fortified with Vitamin B6 and B1 to support the assimilation and activity of magnesium in the body.



High Absorption Magnesium not just helps augment the low levels of magnesium in the blood stream but also prevent further fall in the percentage of magnesium.

Magnesium is used for: Restless leg syndrome, Asthma, Hay fever, Multiple sclerosis, sleep disorders, Prevention of hearing loss Attention deficit-hyperactivity disorder (ADHD) Anxiety, Chronic fatigue syndrome (CFS), Lyme disease, Ibromyalgia, Leg cramps during pregnancy, Diabetes, Kidney stones, Migraine headaches, Weak bones (osteoporosis), Premenstrual syndrome (PMS), Altitude sickness, Urinary incontinence, Restless leg syndrome, Asthma, Hay fever, Multiple sclerosis, sleep disorders, and Prevention of hearing loss Kidney stones, Its also used to help fight free radicals and prevent a variety of illnesses, including tumours, arteriosclerosis, and prostate problems.

Magnesium glycinate is a great supplement that helps to boost magnesium levels in people with magnesium deficiency. High Absorption Magnesium contains a bioavailable form of magnesium called magnesium glycinate. Athletes take magnesium to support Healthy Muscle and aid Recovery.



Magnesium glycinate is the magnesium salt of glycine, it is the most common dietary supplement type of magnesium, due to its gentle on the stomach and easily absorbed. It contains 14.1% elemental magnesium by mass.

What is the dose?
Take 2 capsules once or twice per day with a glass of water. The RDI of magnesium is 420mg for men and 320mg for women, 2 capsules will provide you 168mg. Individuals suffering from magnesium deficiency can take up to 6 capsules throughout the day.

What does it contain?
Each capsule contains 600mg of Magnesium glycinate salts, containing 14% of highly bioavailable elemental magnesium, along with of Vitamin B6 and B1 to help with the boilogical processes.

Are there side effects?
Side effects can include diarrhea and upset stomach, these side effects can be reduced by taking with food or lowering your dose. More serious known side effects include lowered blood pressure, sweeting, flushing stupor and low core body temperature. If you have any bad side effects stop taking and consult your doctor.

Is there drug interactions?
If you are taking other drugs or supplements check with your doctor first. Magnesium chloride can interact with other drugs. Do not take when pregnant or breast feeding without a doctors permission.

How Long Does Delivery take?
Orders are shipped daily Monday to Friday. If you order before 3pm New Zealand customers will receive it the following business day.

Is it Guaranteed?
Yes. We only manufacture and sell the most quality and effective products and offer a 100% Satisfaction, 60 day, money back guarantee. See FAQ page for full details.



Live reviews from real customers.
Results may vary from person to person.