Megaman - Support Muscle Building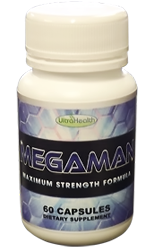 Megaman is a testosterone and nitric oxide supporting supplement for Atheletes.



Whats the dosage?
Take 2 capsules before a workout and give your body the support it needs for optimum muscle growth.

What are the ingredients?
Contains: Tribulus Terrestris extract, L-Arginine and Piperine.

How long till I get my order?
NZ orders received before 2pm, usually arrive the following business day. Although there are sometimes exceptions. We do all we can to get you your order a quick as possible. International orders take 1-2 weeks.

Is it Guaranteed?
Yes. We only manufacture and sell the most quality and effective products. So can offer a 100% satisfaction money back guarantee. If you are not 100% satisfied with your purchase you may return it for a refund.

Live reviews from real customers.
Results may vary from person to person.