NAC (N-Acetyl L-Cysteine)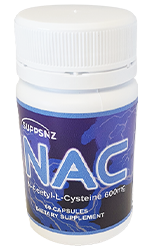 NAC (N-Acetyl L-Cysteine) is a type of amino acid important for a variety of health reasons — including replenishing the most powerful antioxidant in your body, glutathione. NAC can also help with respiratory conditions, fertility, body detoxification, and brain health.






Whats the dose?
Take 1 capsule of NAC daily, with water and preferably with a carbohydrate meal. This will support optimal bioavailability.

What does it contain?
Each fast release capsule contains 600mg of NAC (N-Acetyl L-Cysteine). No fillers or binders.

Are there any side effects?
NAC has an unpleasant smell that makes it hard to consume for some people. You should not experience any side effects. If you do, stop taking and consult your doctor.

How Long Does Delivery take?
Orders are shipped daily Monday to Friday. If you order before 3pm New Zealand customers will receive it the following business day.

Is it Guaranteed?
Yes. We only manufacture and sell the most quality and effective products and offer a 100% Satisfaction, 60 day, money back guarantee. See FAQ page for full details.



Live reviews from real customers.
Results may vary from person to person.